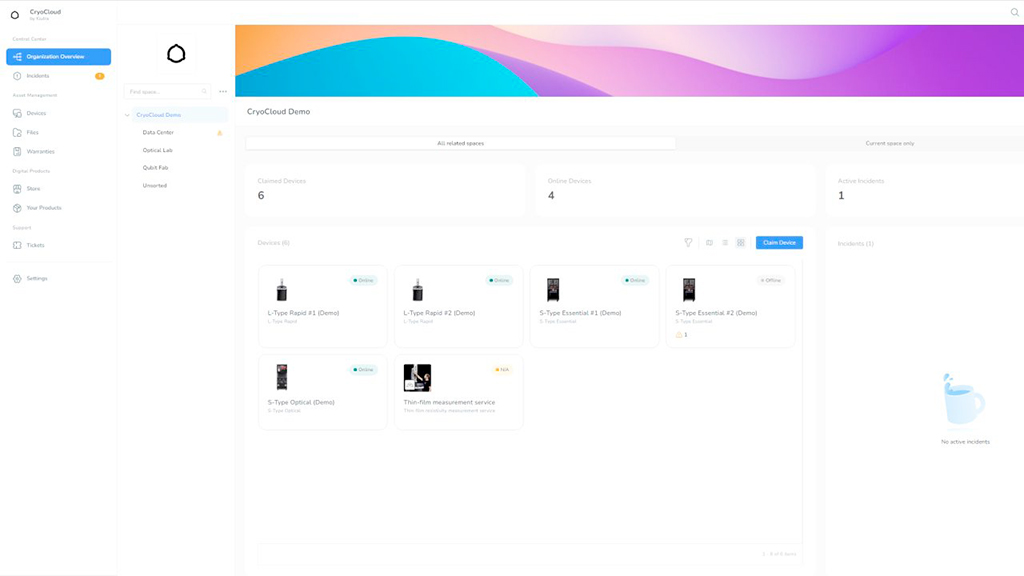 Introducing CryoCloud®
Monitoring cryogenic hardware and services can be a tedious task. To create a smarter way of working, we have built CryoCloud®. Powered by our partner Xyte, CryoCloud® provides our customers with the most modern and integrated digital user experience in cryo-technology.
Through their individual online platform, they can now get simple and fast access to a wide range of new and unique features.
Keep track of everything all the time
The organizational view lets you identify, monitor and manage your cryogenic devices from one place in a coherent way:
see the status of all your devices
detect and fix incidents
organize your devices according to your organization's structure.
Monitor equipment remotely
The digital dashboard conveniently shows the status of your cryostats, operational and maintenance data as well as all incidents – all without requiring direct on-site access:
see the detailed status of each individual device.
track and visualize key parameters over time.
trigger service commands remotely.
Never search for the user manual again
All relevant device information and documentation can be accessed all in one place online.
Get help quickly
Through the intuitive customer support system, you can send device-specific tickets and get direct support from our service team:
open a ticket for any device or service
chat with our support for direct assistance.
Never run out of supplies
Get exclusive access to our web store, where you can buy accessories and consumables.
Quickly reorder accessories and consumables online, and always be prepared for the next measurement.
Innovate faster with our service measurements
Order and coordinate our first-of-its-kind low-temperature characterization measurements through a simple interface and workflow.
Configure our standardized measurements from your browser and get expert support and your result data online.