Fully Integrated Cooling Solution
Versatile, rack-mountable cryogenic platform
Fully Integrated Cooling Solution
Versatile, rack-mountable cryogenic platform
S-Type Essential
Integrated. Automatic. Flexible.
The S-Type Essential is a versatile, rack-mountable sub-Kelvin cryostat designed for the operation of low-temperature electronic devices, such as single-photon detectors or light sources, or the integration of complex customer setups. In its standard configuration, the system provides continuous cooling at 300 mK and "one-shot" operation down to 100 mK – independent of the supply with cryogens.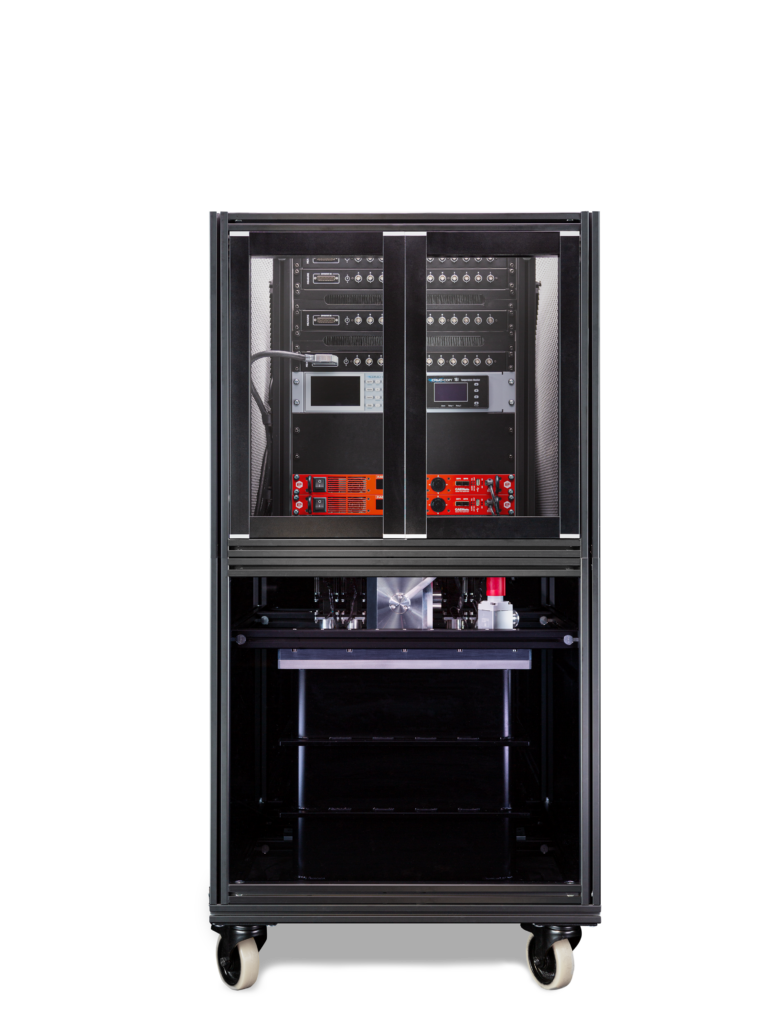 Key Benefits
Built for maximum design flexibility, even below 1 K
Versatile Cryogenic Platform
Despite its compact size the S-Type Essential features a large sample platform of 150 mm x 300 mm to accommodate complex user setups or multiple electronic devices. With two large user ports of 120 mm x 110 mm, it can be easily adapted to integrate, e.g., special wiring, fiber-optics or custom setups.
Continuous, Cryogen-free Operation at 300 mK
In its standard configuration, the S-Type Essential features two ADR units which work together to provide continuous, cryogen-free cooling at temperatures as low as 300 mK. Additionally, both units can be operated in "one-shot" mode to reach temperatures as low as 100 mK for a limited hold time. Both in continuous and "one-shot" mode, the cooling process is automatic and can be controlled though our intuitive graphical user interface.
Fully Integrated Cooling Solution
The most prominent feature of the S-Type Essential is its full integration in a 19'' rack, with the cryostat mounted in the lower compartment, and the control electronics in the upper part of the rack. Additionally, the upper part offers enough space to accommodate typical user electronics, so that the complete system will not take up more space in your lab than absolutely necessary.
Available Options
Accessories for your individual cryogenic requirements
Up to 4 optical fibers
to run detectors or photon sources
Up to 16 RF lines
and up to 48 DC lines
Low resistance wiring
e.g. for piezo positioner operation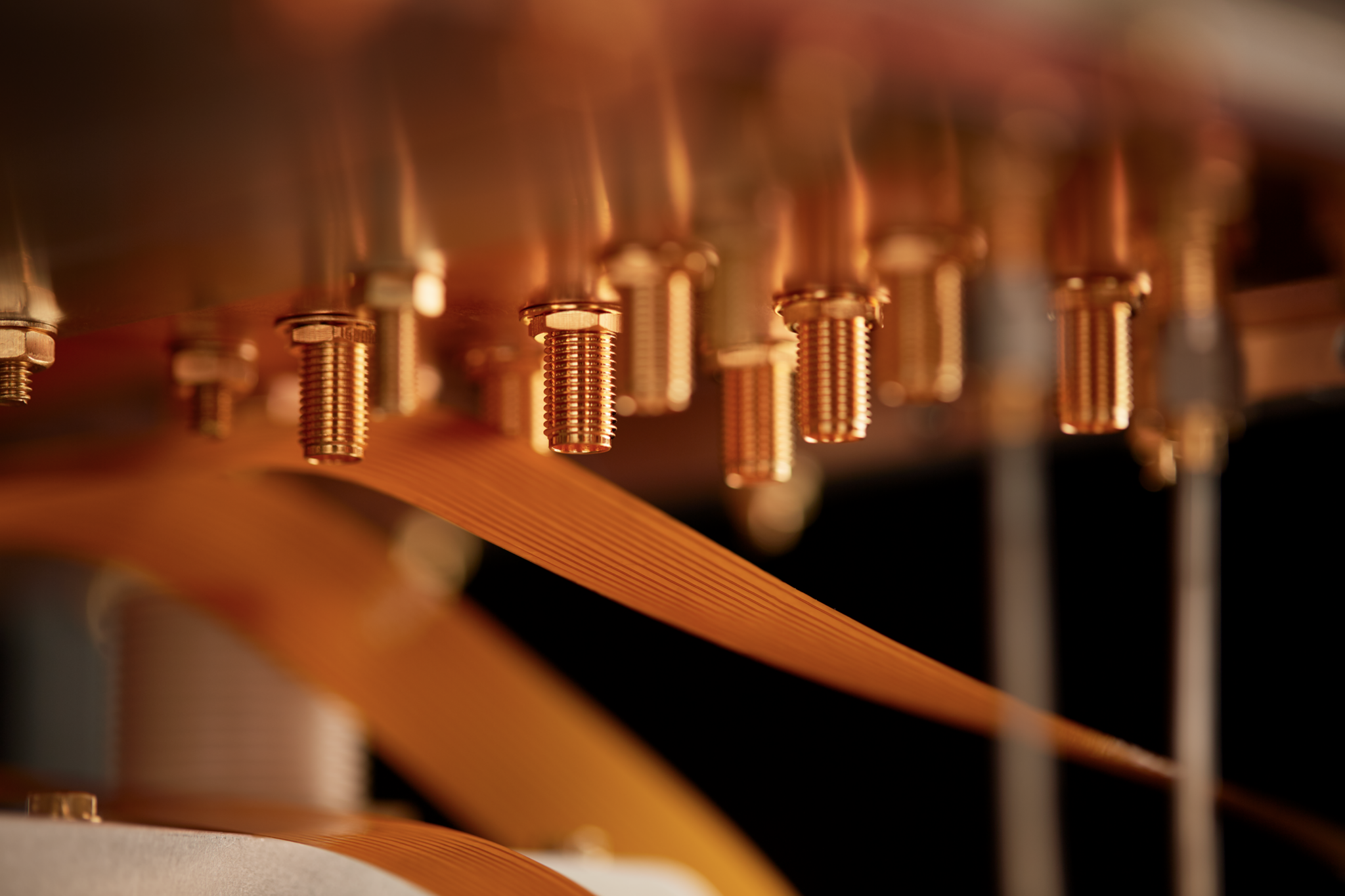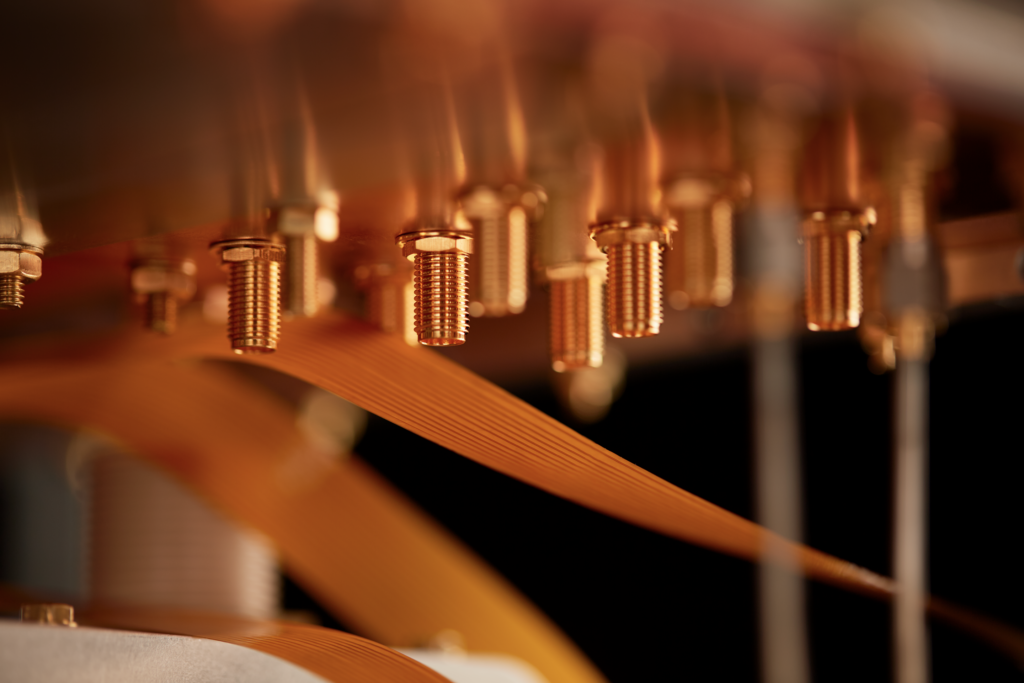 Typical Applications
Innovative cooling for state-of-the-art science and technology
Superconducting Nanowire Single-Photon Detectors (SNSPD)
Cryogenic nanowire detectors are among the most efficient photon detectors available today. They are useful for various applications in metrology, imaging, and communication, including also future fiber-based quantum key distribution networks. SNSPD must be operated well below their superconducting critical temperature of typically several Kelvin. They will benefit from even lower temperatures particularly at the telecom and longer wavelengths. Therefore, kiutra's S-Type Essential provides continuous cryogen-free sub-Kelvin cooling. Thanks to the robust magnetic refrigeration process, detector cooling and related applications benefit from unsupervised long-term cryostat operation. Despite its small footprint the S-Type Essential offers also a large sample stage. It can thus easily accommodate and operate multiple fiber-coupled detectors and related low-temperature wiring and electronics. Its compact size allows to mount the cryostat in a 19" rack, making it an ideal choice for integrated sensing and communication applications.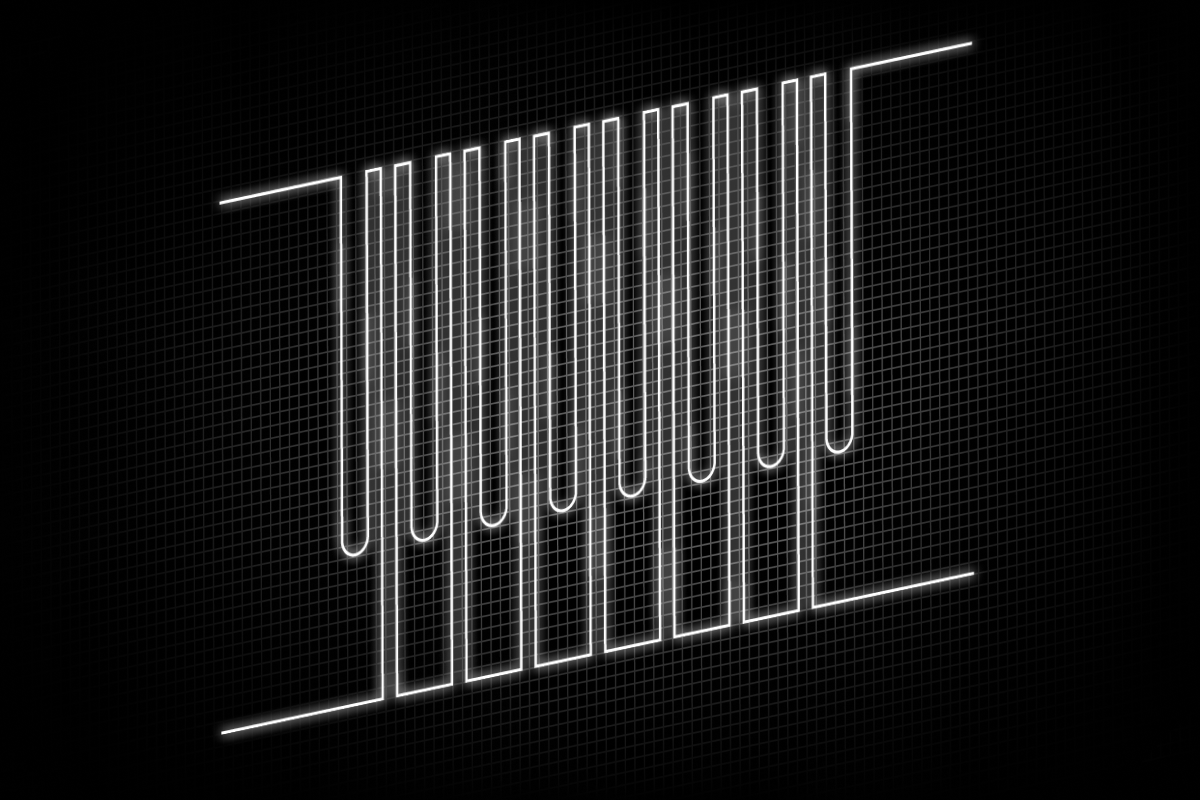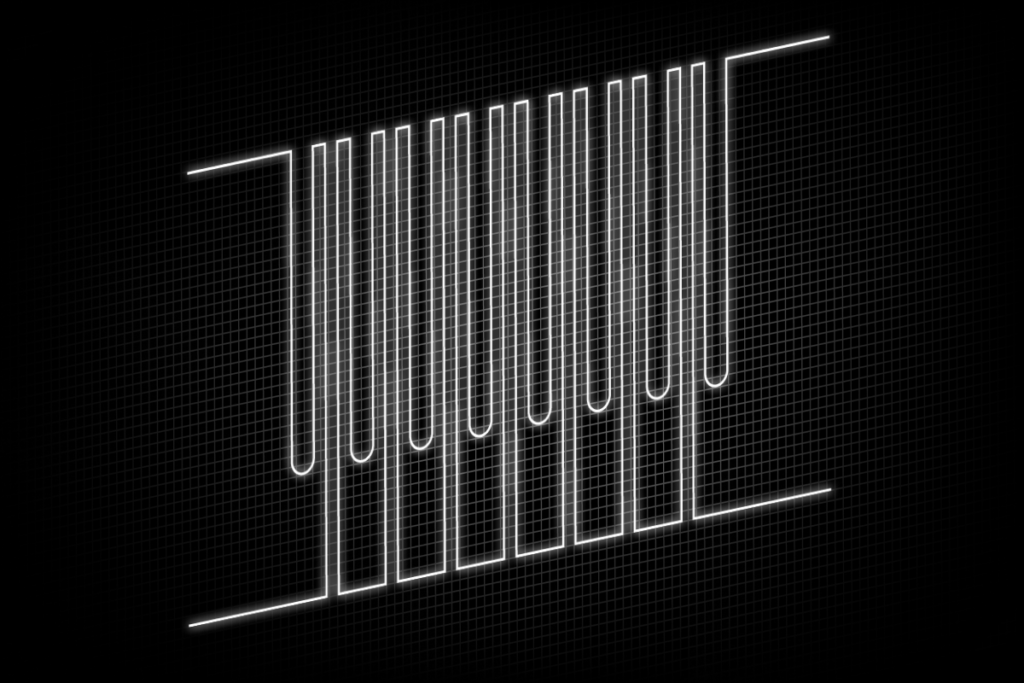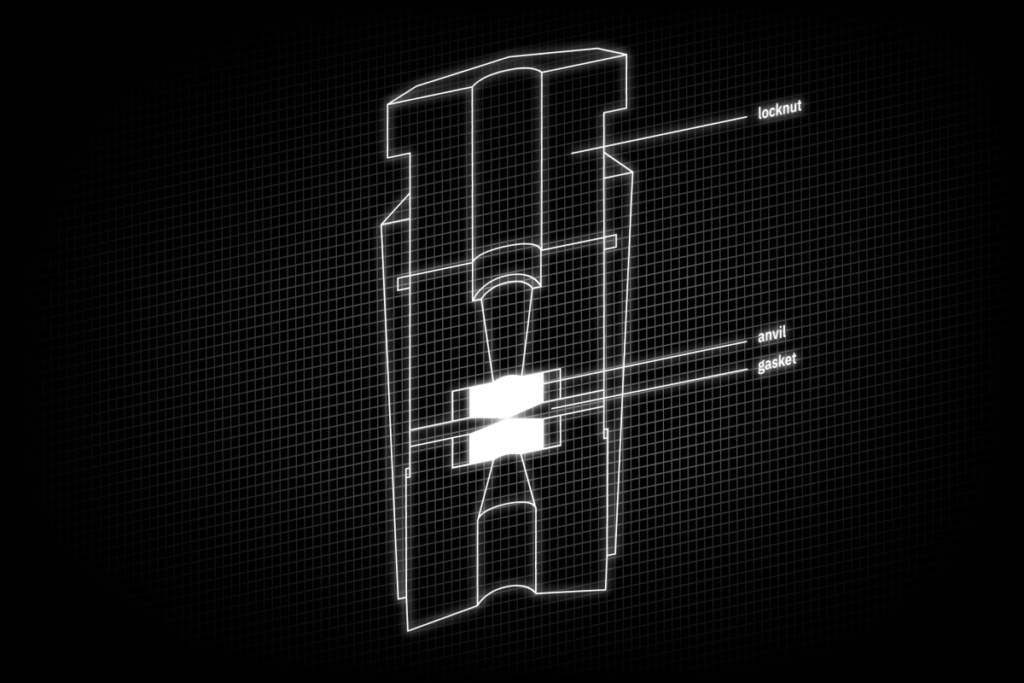 High-Pressure Measurements
Materials with strong electronic correlations are often susceptible to the application of pressure. Using high-pressure techniques like piston-cylinder or Bridgman cells, physical properties such as the magnetization, susceptibility, and resistivity can be studied as a function of temperature, magnetic field, and pressure. This allows to map out complex phase diagrams, to tune materials towards low-temperature electronic instabilities, and to investigate their behaviour in the proximity of a phase transition. The kiutra L-Type Rapid is a fast-cooling cryostat and therefore ideally suited to study pressure cells, where the pressure must be changed frequently and ex-situ. The Sample Puck used in kiutra's sample loader offers enough space to mount different high-pressure clamp cells. More complex experimental setups that require, e.g., gas-activated cells for in-situ changes of the pressure or in-situ pressure determination using ruby fluorescence can be implemented using kiutra's S-Type Essential cryostat. It offers a large sample platform and can be easily adapted by the user to meet his individual requirements.
Performance Data
Continuous solid-state cryogenic cooling
Continuous Operation at 300 mK
Conventional adiabatic demagnetization refrigerators (ADR) allow only for "one-shot" cooling. By combining multiple ADR units, kiutra's cryostats can provide both "one-shot" and additionally continuous sub-Kelvin cooling (cADR) independent of the supply with cryogens. In its standard configuration, the S-Type Essential uses two ADR units to generate continuous magnetic cooling. The figure shows the temperatures of both ADR units running in cADR mode at 300 mK. While the first unit cycles between the 4 K main heat bath (provided by the cryocooler) and a temperature below the target temperature, the second unit controls the sample temperature. As a result, the sample stage can maintain a constant temperature of 300 mK with a typical temperature stability <0.1 %, and a slightly reduced stability <2 % when activating its heat switch to initialize the regeneration.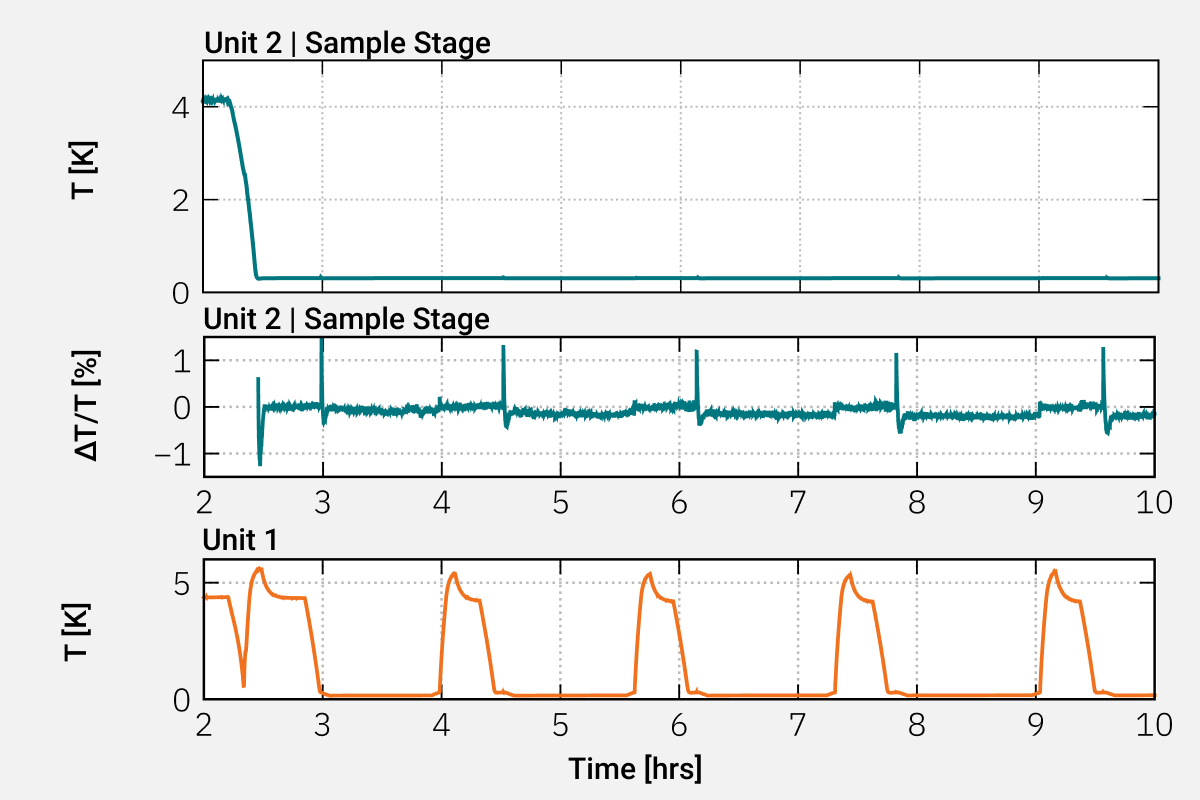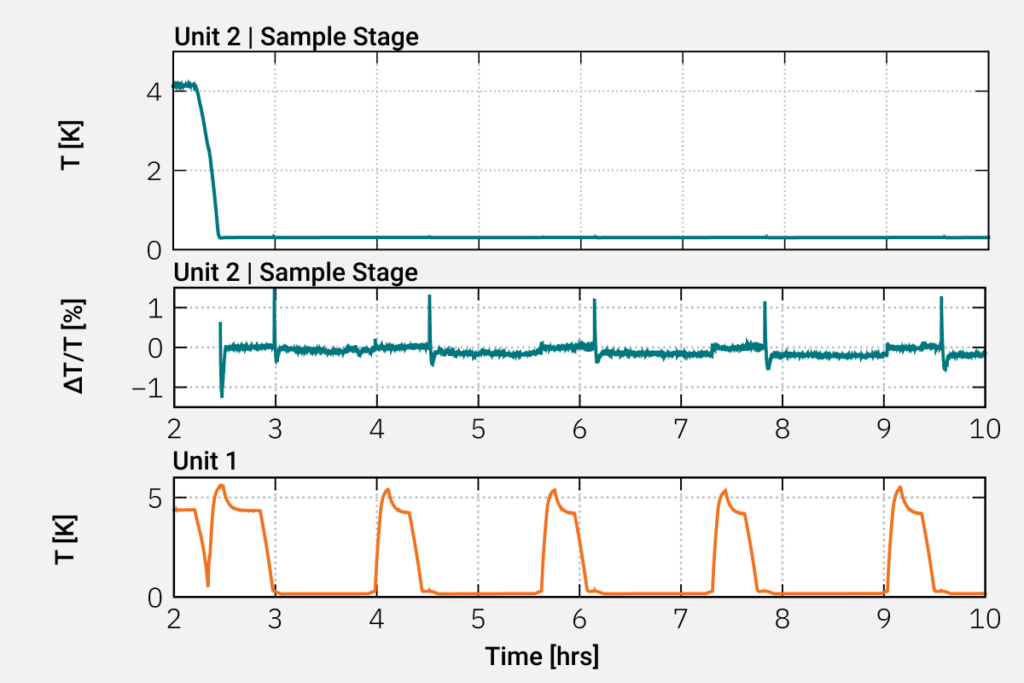 Cooling Power
A detailed knowledge of the cooling performance of a system is essential for the realization of cryogenic applications. This graph shows the cooling power of the S-Type Essential, measured at the sample platform with the standard 24 lines DC wiring, sample heater, and thermometer installed.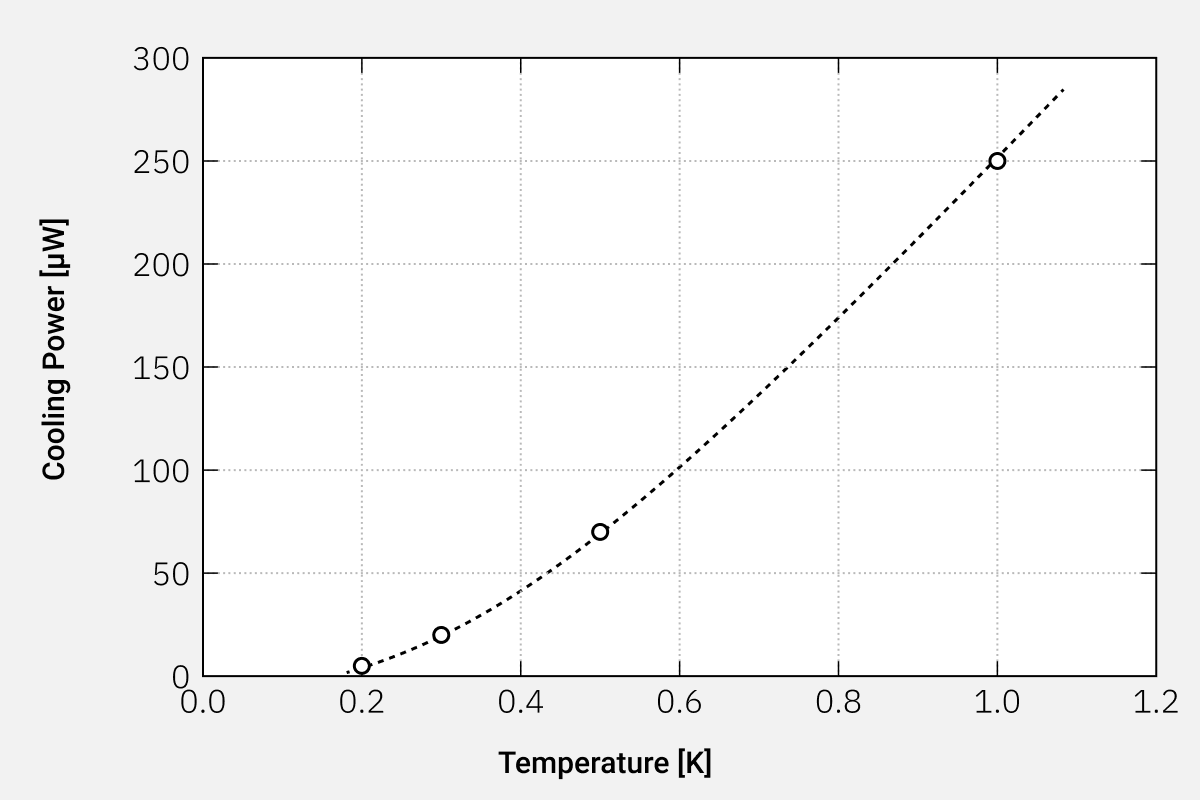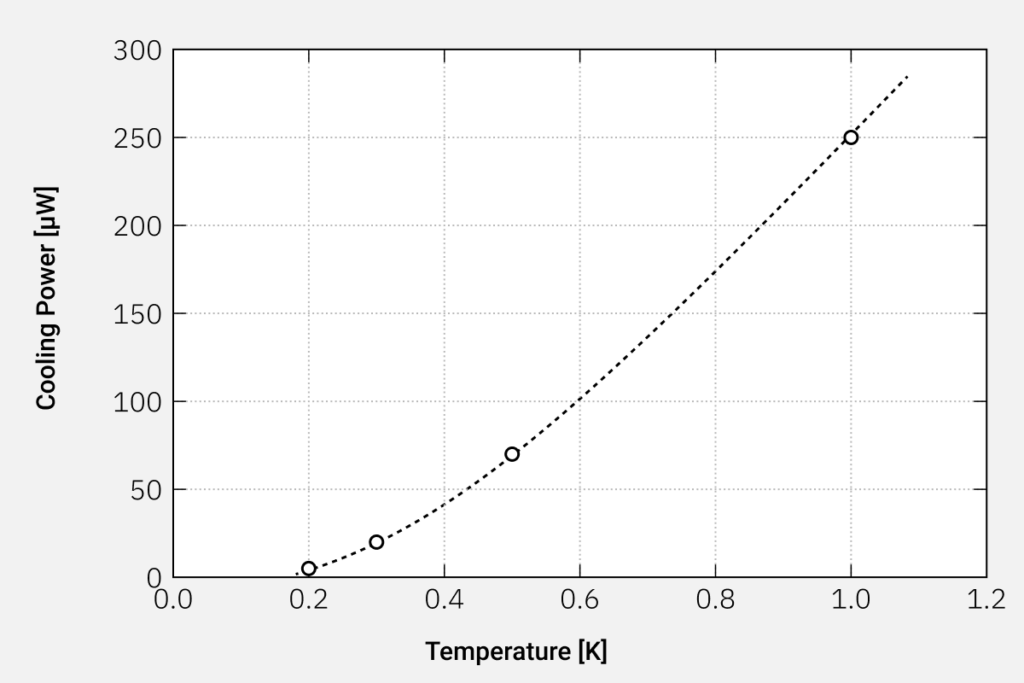 Scope of Supply
We deliver fully equipped, turnkey cooling solutions
Cryostat
Sumitomo RP-082B2 closed-cyle pulsetube cryocooler, 1W 4.2K, 40 W @ 45 K
Sumitomo F70H water-cooled indoor helium compressor, 20 m flexlines
Two ADR units for one-shot continuous operation:
2 ADR magnets
2 Heat switches
2 Cooling media
Wide range pressure gauge
Integrated passive quench protection
Two user ports for custom integration:
Instrument Control
Custom 19" electronics rack
kiutra Modular Control Unit (MCU):
Base Module
Power Module
Drive Module
2x Load Module
kiutra Compressor Control Unit (CCU)
Temperature controller
Calibrated temperature sensor on sample stage
Temperature sensors on cryocooler cold stages and first ADR unit
Sample heater and warm-up heater
User PC with pre-configuration Python-based instrument control software and high-definition display
2 x Digital high frequency magnet power supply
User breakout
Filtered temperature sensor breakout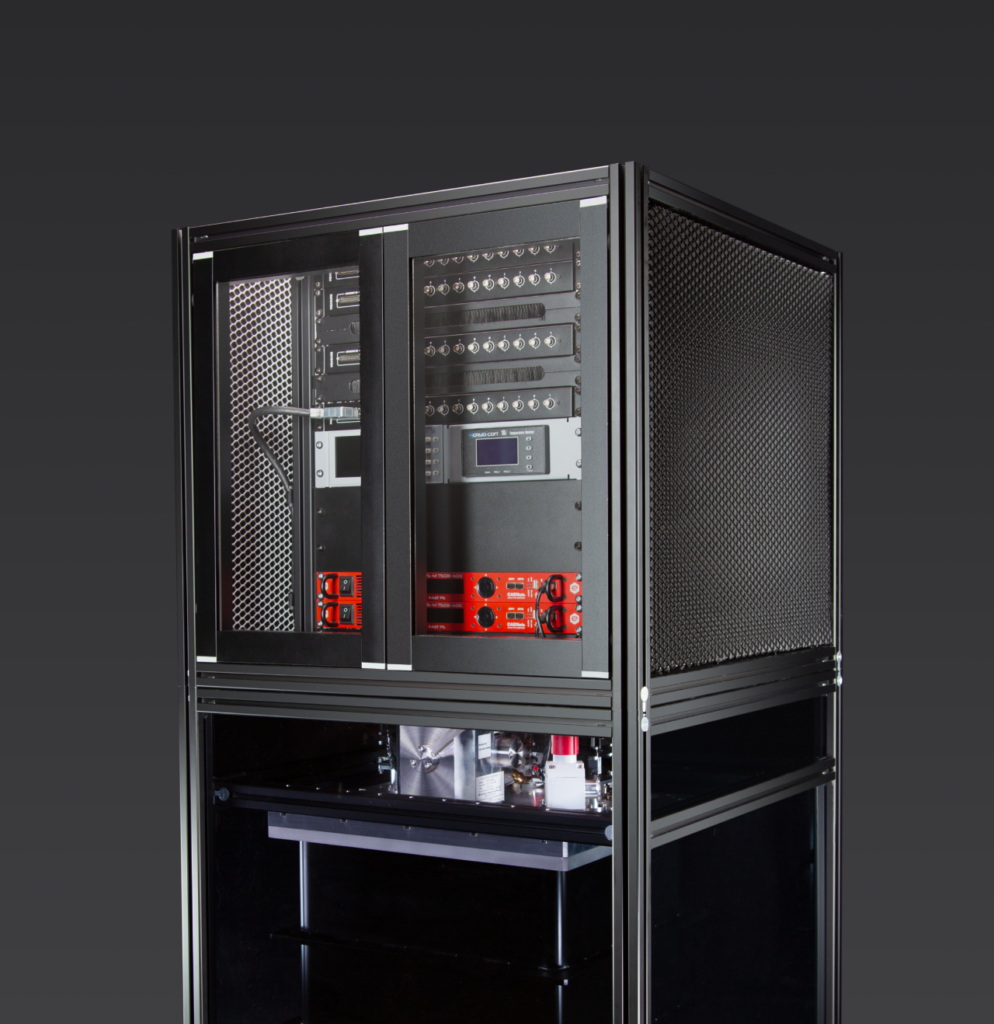 Tech Specs
S-Type Essential


System size (cm)
(w x l x h)
cryostat
rack
compressor
80 x 80 x 71
80 x 80 x 71
54 x 45 x 50
System weight (kg)
cryostat
< 300
Size of sample platform
width x length
height
150 x 300
100
System cooldown time (hrs)
23
Continuous temperature control (K)
0.3 – 300
Cooling power (µW)
@ 500 mK
@ 1K
50
160
Operation time (hrs)
@100 mK
3 hours
Temperature stability
typical
while switching stages
< 0.1 %
< 2 %
Do You Need Further Information?
Schedule a call with our experts and download our brochure